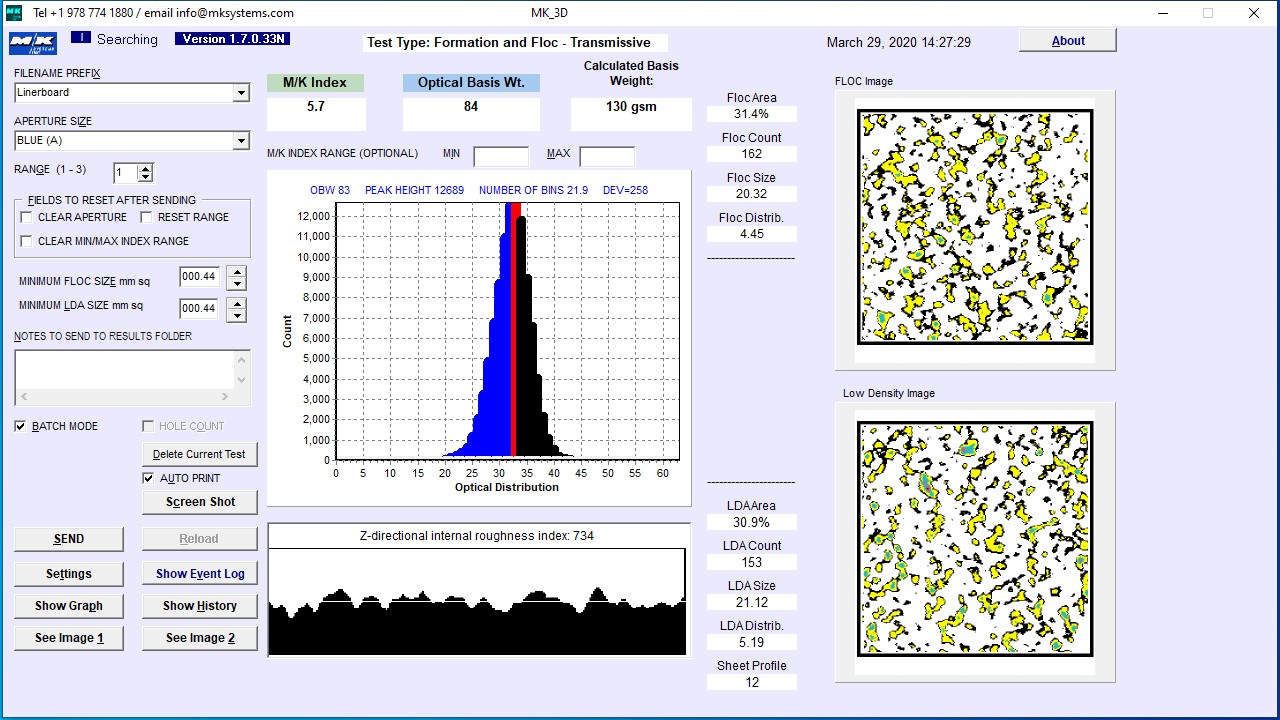 The M/K 3D Formation Tester model 1200: The most accurate optical formation Tester available.
We measure the formation index, floc sizes, low density pockets, and basis weight of your sheet by use of a laser-type focused beam of light.  Test all grades of paper: bond, liner board, recycled, copy paper, coated papers, colored papers, or any other grade. The M/K scans each pixel of your sheet independently over a large area (8"x10").  This independent pixel scanning method avoids light scattering issues endemic in all camera systems.  We also include a unique feature that allows user to change the optical sensitivity from a low setting to an ultra high setting, allowing you to filter out the less significant flocs and sheet defects.   In addition to transmission analysis, we offer an optional surface scanning set of optics that can characterize the surface of your sheet.  Compare wire side Vs. felt side easily and reliably.   
New in 2020: We have doubled the resolution of our scanning with our latest "high resolution" technology.  
                                                                         Some industry references include:
1. Xerox Corp., # US Patent #5,935,689, "Printing Method".
2. Proctor and Gamble, US Patent #6,114,471, "Strengthening paper".
3. Kimberly Clark, US Patent# US 7,258,758,  "Strengthening nonwovens".
4. Rayonier, US Patent#8,497,410 "Method for making absorbent products".
5. Newpage, US Patent #8,727,528, "Glossy recording medium for inkjet printing".
Copyright © M/K Systems 1969-2020